I believe food can take you on journey's, through time and space. I believe it can nurture you and teach you. The more I learn about food, the more I come to the realisation that Asian food is my jam. I absolutely love how it varies between fresh, simple ingredients to heavy complex combinations of spices.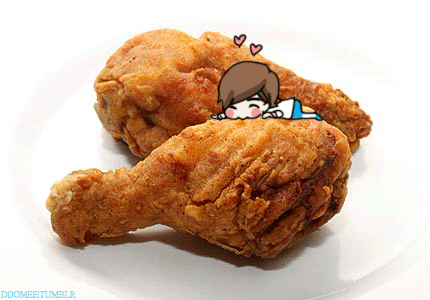 One of the biggest staples in the Asian cuisine is chicken. If anybody ever tells you they don't like chicken, unfriend them immediately. You do not need that kind of negativity in your life. Chicken is the best and deserves our undivided love!
Now I don't have a romantic story about how this dish has influenced my life or how my grandmother used to make this for us when we were little. What I do remember is, when I first got introduced to these little crunchy nuggets, I was sold.
Whilst wandering through a food truck festival in Amsterdam's Westerpark, my eye fell on this little truck that was tucked away in a corner. It had no name, nor logo, it merely had a little sign which said: "Korean Fried Chicken". Which of course triggered my curiosity. Their menu was simple: sweet or spicy KoFC. The choice was simple too; one serving of each please. I sat down in the grass, sampled the chicken, closed my eyes in delight and for a little while, the world was a marvellous place. Spicy, sweet, tangy, sticky, crispy, everything I love in one dish! What followed was nothing less than a teenage crush. I searched the internet for recipes, pictures, videos. I even dare to confess I fantasised about a KoFC food truck being at my wedding. Still single though ¯\_(ツ)_/¯
Although so deeply delighted by this dish, I somehow never tried to make it myself. The thought: "Leave it to the professionals" kept popping up. Until many, many months later I was killing some time at home and decided that day was the day. and guess what, KoFC is so easy to make that I felt stupid for waiting so long!
So, as the great philosopher Kody Brown said: "Love needs to be multiplied, not divided"
I hereby urge you to try and share this recipe, because well…Chicken…
Ingredients:
1-2 kg of boneless chicken thighs, wings or drumettes
8 big cloves of garlic (in this dish please do not substitute with garlic powder)
About a 5-8 cm piece of fresh ginger
About 100 grams of Butter
Honey
Soy sauce (the salty one, which you dip your sushi in)
Lime juice
Tapioca flour/starch
Salt
Pepper
Optional Ingredients:
Dried chilli flakes
 Fermented Korean chilli paste, Gochu-jang
Sesame Seeds for garnish
Other necessities:
Sunflower seed oil for frying (you can use any flavourless oil, no olive oil!)
A pan suitable for deep frying, usually a wok will do
A super non stick pan, you really need this unless you want to throw away your pan afterwards
A wide deep plate or bowl for flouring
A fine grater
Directions:
To save some time, start by heating plenty of oil in the pan you will be using for the frying, on a low-medium heat. Also pour a decent amount of tapioca flour into a wide deep plate or bowl and set aside. While the oil is heating your can prep your chicken.
When using the thighs, cut each thigh fillet in about 6/7 pieces. Then grate 4 cloves of garlic and about 3/4 of your ginger over the chicken. Season with salt and pepper and coat the chicken thoroughly. You can choose to let this marinate overnight, but I have tried and it doesn't make a difference, so don't waste your time on that.
Your oil should be ready for frying by now, so you can start flouring. Don't drop too many pieces of chicken into the flour at once, this will make the flour wet and clumpy. What I usually do is dredge them one by one. So, like burying a treasure, cover your chicken with a big heap of the flour, then really press it onto the chicken, making sure any nook and cranny is covered. Then shake of any excess flour and carefully drop it in the hot oil. If your pan is too small to hold all the chicken, fry in batches.
After about 5-6 minutes the chicken starts taking on a little colour, slightly golden, but
not quite sexy yet. This is when you take them out of the pan and let them rest for about 2-3 minutes, or for how long it takes for you to fry all your batches.  When everything is fried and rested, fry the chicken for a second time, until beautifully golden brown and super crunchy, this takes about 10 minutes. Quite frankly, I sometimes just stop here and eat the chicken as is. It's so flavourful and the crunch is amazing!
Now let them chicks rest for a bit while you make the sticky coating.
Mince 4 cloves of garlic with the remainder of your ginger. Because I am lazy I use an electric mini chopper. Don't mince it too fine. In your super non stick pan, melt the butter and add the garlic/ginger mixture, don't let the butter or garlic go brown, but keep stirring until it kinda smells like garlic bread.
Now you can go into 2 directions; make the sauce sweet or spicy. If you want to make it spicy, now is the time to add the chilli flakes and the Gochu-jang to taste, stir to combine.
If you want to make it sweet, skip this previous step and add about 3-4 tablespoons of honey, stir, then add about 2-3 splashes of soy sauce, stir, then squeeze in some lime juice. For all the mentioned ingredients, better to add too little than too much, taste as you go. When the sauce is to your liking, let it bubble until it looks like a thick caramel, then add the chicken and toss to coat. Voila! C'est tout!
A little warning, this sauce is hot like molten lava, so please please please do not stick your finger in it to taste. Drag the back of a metal spoon through the sauce and let it cool a bit on the spoon, then taste.
Now go on and make somebody fall in love with this.
This is how Asia has added flavour to chicken and life ❤